The impact a Reverse Mortgage may have upon your eligibility for the Aged Pension will depend on individual circumstances, and there are a number of important factors to consider. It ultimately depends on the purpose, and how you use the money from a Reverse Mortgage.  There are three ways you can take Reverse Mortgage funds:
1. Money taken as a lump sum
If the money is taken as a lump sum and spent on an asset that is assessable by Centrelink, such as a car, the value would count towards the asset test of the pension. This would also combine with your other assets (not including the value of your home) which could take you over a certain threshold and reduce your pension.
From 1 July 2018, the threshold where pensions begin to reduce is when your assets amount to more than the following.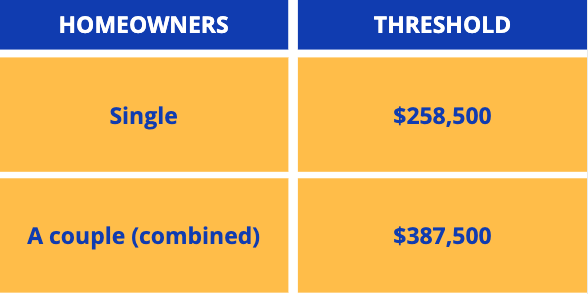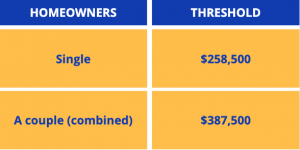 Under Centrelink rules, if you draw a lump sum from a Reverse Mortgage, up to $40,000 is exempt from the assets test for up to 90 days, so the money needs to be spent within this time limit to avoid it becoming an assessable asset.
Any money drawn down is immediately subject to deeming by the Centrelink income test until you spend it. So for example, if you draw down $40,000, it will be deemed to be earning 1.75% (around $27 per fortnight). Single home owners can earn $172 per fortnight without affecting their pension, while for home owning couples, the amount is $304. If you purchase an asset that produces income, such as shares or an investment property, any derived income would be assessed as part of the income test.
Finally, if the Reverse Mortgage lump sum is spent on a non-assessable asset, such as home improvements or a holiday, then the amount would not be assessed under the income or assets test.
2. Money taken as an 'income stream'
If the loan is taken as a regular income stream to spend on living expenses or non-assessable assets, then it would be unlikely to affect your pension. It is not counted as 'income' by the income test and, if spent quickly on bills and lifestyle, should have no effect on your age pension. But if the money builds up in your bank account, it is subject to the Assets Tests (see above).
3. Money in reserve (like a line of credit)
Funds that are available to you for the future, but which are not yet drawn down, are not assessed under either the income or assets tests for Centrelink purposes.
(NOTE: some lenders have in the past offered Reverse Mortgages with an 'offset account' attached. Funds within an offset account MAY be deemed an assessable asset. If unsure, please consult with Seniors First). 
The information in this fact sheet is for general information purposes only. It does not constitute Financial Advice, and should not be relied upon as such. While Seniors First used information published by Centrelink in developing this fact sheet, it is neither approved by Centrelink, nor attempting to speak on behalf of Centrelink. Rules and figures change, as do individual circumstances. Seniors First strongly encourages those seeking a Reverse Mortgage to speak to a Financial Information Services (FIS) officer at Centrelink directly about the effect (if any) a Reverse Mortgage may have on their pension entitlements.