Australian seniors are feeling the pinch from the rising prices according to the latest data released by the Association of Superannuation Funds of Australia (ASFA).
The advocacy group reveals the latest increase in the cost of living for some retirees is the largest seen in 12 years.
For example, Australian couples around 65 years need to spend at least $65,445 per year to live a comfortable retirement.
Meanwhile, single pensioners need to spend at least $46,494. The increase represents a 1.0 per cent and 1.2 per cent compared to the previous quarter.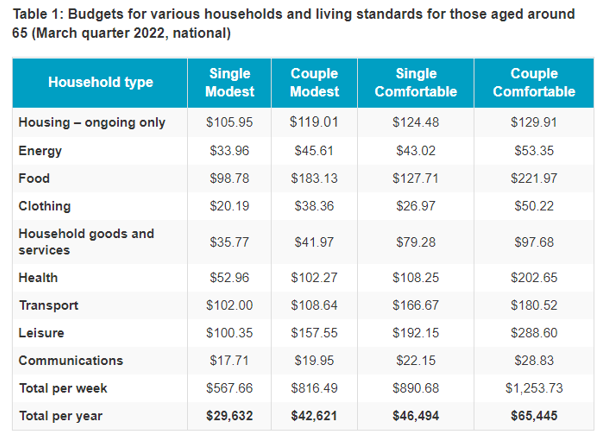 On the other hand, coupled aged around 85 need to spend at least $60,528 per year while singles in the same age bracket need to spend $43,638.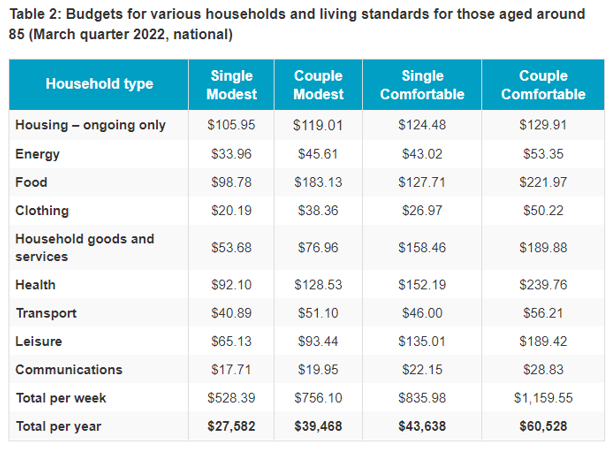 The comfortable couple budget increased around 4.2%, while the comfortable single budget increased by 4.7%, over the year to March 2022.
'While this is marginally smaller than the annual inflation impact of 5.1 per cent for wage earners, the reality is that retirees are doing it tough too," said ASFA Deputy CEO, Glen McCrea. 'Retirees have faced significant price increases for non-discretionary items such as food, automotive fuel, and health costs."
ASFA also projects that seniors will continue to face higher costs of health services.
"While there is considerable subsidisation of health costs and benefits being paid from private health insurance, out of pocket expenses remain substantial for items such as dental treatment, optical expenses, and gap payments for procedures in hospitals, and private health insurance premiums also continue to increase," the report said. "Substantial increases in the cost of electricity and gas are also expected."
Seniors also need to face other increases because of the rising petrol prices and the latest power hikes in most parts of the country.
Vegetables are up by 6.6% and fruit by 4.9% due to COVID-related supply chain disruptions and high transport and fertiliser costs.
Meat and seafoods also rose by 4.8% due to herd rebuilding in response to favourable weather conditions, reducing supply.
Pharmaceutical products are up by 5.7% and medical and hospital services by 1.8% rose as a result of the cyclical reduction in the proportion of consumers who qualify for subsidies under the Pharmaceutical Benefits Scheme (PBS) and Medicare safety net.
Private health insurance premiums rose on average by 2.7 % from 1 April with some major insurers increasing premiums by more than 3%.
Reverse Mortgage Line of Credit Can Ease 'Inflation Stress'
A Reverse Mortgage line of credit can provide a supplement to your current income, relieving the stress of soaring prices.
By unlocking a portion of your home equity, you can cover general grocery and utility bills.
Many seniors apply for a line of credit to have standby funds for unexpected costs such as home maintenance, car servicing or even medical costs.
You'll have complete control over when you take out the funds, and how much you receive.
Other options include a lump sum or regular payments designed to supplement your existing source of income.
And with a Reverse Mortgage, you don't have to go through the emotional burdens of having to move or sell.
Best of all, you can pay it back anytime you want. Reverse mortgages are flexible so regular repayments are not required. The total loan amount, including interests, can be repaid when you pass away, move into long-term care, sell your property, or move out permanently from your home.
As you remain the full legal owner of your home, you can benefit from any increases in its value.
To help you learn more about Reverse Mortgage, you can download our FREE REVERSE MORTGAGE GUIDE.
You can also call Seniors First Finance at 1300 745 745 or post your comments below.
Regards,
Darren
NOTE: This article is for informational purposes only and does not constitute financial advice. Pension rates and income test criteria quoted are accurate as of the date of publication and may be subject to subsequent change. Readers are encouraged to check Centrelink for current criteria.